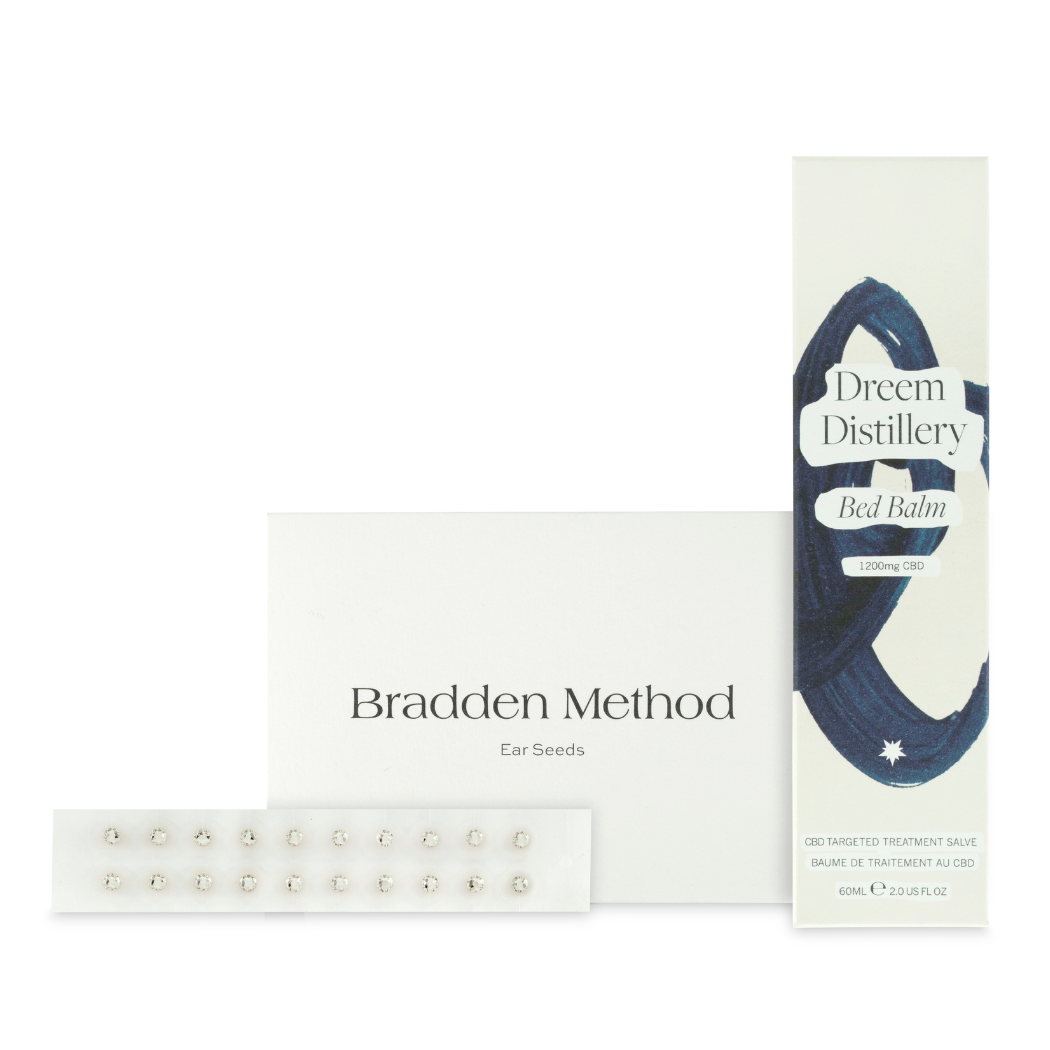 Dreem Distillery x Sarah Bradden
Dreem Seeding Treatment
Combining Acupressure and the application of stylish Sarah Bradden Ear Seeding crystals along with the Dreem Distillery Bed Balm to calm, soothe and promote a good night's sleep. Apply ear seed crystals to specific points around the ear that directly correspond to specific organs, emotions and other systems in our bodies to promote sleep. Incorporating the Bed Balm, applied to active pressure points such as the ears and temples, the powerful combination of the Ear Seeds and Bed Balm compliment each other to melt away stress, support deep relaxation and set you up for a better night's sleep.
"Dreem Distillery are thrilled to be working with Sarah Bradden on this exclusive ear seeding treatment incorporating our Bed Balm in light of World Sleep Day. By making sleep a priority, you will improve your physical and mental wellbeing. Sleep is so critical for so many parts of our body and our mind, Dreem Distillery's Bed Balm and Sarah's ear seeds work synergistically together to provide a good, restorative night's sleep." - Hayley Dawes, founder Dreem Distillery
Why Dreem
We care passionately about purity and potency. Our ingredients are ethically sourced, organic and quality-controlled for concentration and efficacy. We only use broad-spectrum CBD (as opposed to CBD isolate), known for its superiority in calming the nervous system and we invest in high-strength terpenes and botanicals proven to soothe and enhance deep sleep.
Supports you with
Soothes and promotes a good night's sleep.
Body oil: Smooth onto the body in languid upward strokes. We recommend applying this body oil to slightly damp skin after a bath in order to maximise its nourishing benefits.

Bath oil: Disperse several drops into filled, warm bath. Adjust your dose to suit your mood. We recommend immersing for a minimum of 20 minutes to fully absorb the active ingredients.
The core botanicals in Into the Deep are specifically selected for their transformative effects on the body and mind.
Helianthus Annuus (Sunflower) Seed Oil*, Brassica Campestris Seed Oil*, Glyceryl Caprylate, Polyglyceryl-2 Diisostearate, Pogostemon Cablin (Patchouli) Leaf Oil*, Lavandula Angustifolia (Lavender) Flower Oil*, Pelargonium Graveolens (Geranium) Flower Oil*, Vetiveria Zizanoides (Vetivert) Root Oil*, Copaifera Officinalis (Copaiba) Resin Oil*, Cistus Ladaniferus Resin, Caprylic/ Capric Triglyceride, Simmondsia Chinensis (Jojoba) Seed Oil*, Cannabidiol, Arnica Montana Flower Extract*, Calendula Officinalis Flower Extract*, Cinnamomum Camphora (Howood) Leaf Oil, Anthemis Nobilis (Chamomile) Flower Oil*, Polyglyceryl-6 Caprylate, Polyglyceryl-3 Cocoate, Polyglyceryl-4 Caprate, Polyglyceryl-6 Ricinoleate, Rosmarinus Officinalis (Rosemary) Leaf Extract*, Tocopherol, Juniperus Communis (Juniper) Fruit Oil*, Spirulina Platensis (Blue Spirulina) Powder, Linalool, Geraniol, Citronellol, Limonene, Citral, Benzyl Alcohol. This product contains less than 0.01% THC. *All organic ingredients
DREEM COMPLEX: All our bath and body products are infused with our proprietary Dreem Complex for elevated evening relaxation. This is made up of broad-spectrum CBD, arnica, juniper and lavender.
Vegan friendly
100% natural
91% organic
100% natural fragrance
No CBD Isolate
No artificial colours
No parabens
No mineral oils
No polymers
No sulphates
No synthetic ingredients
Store out of direct sunlight. Not suitable for pregnant or breastfeeding women. Keep out of reach of children.
Shop for a better sleep
Our Customers Love to Dreem